Green Mountain Woodcarvers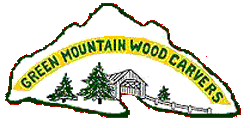 ---
---
In addition to the website and monthly newsletters, you can now find out more about the Club
by logging into Facebook and joining the Green Mountain Woodcarvers group.
---
Saturday November 3rd 2018 CarveIn

GMWC President Matthew Strong"s

Stowe, Vermont


Our November Carve-In was hosted by our own President Matthew Strong on a very cold and wet day, not so good to catch up on outdoor projects, but a nice warm shop for a CarveIn. 10 members attended. As always there was no shortage of donuts. Everyone worked on a number of projects during the morning ranging from Oliver's Owl, my own unfinished Class project Otter, while Roy and Dave worked on inventory for upcoming Craft Fairs. At noon Matt brought down a large crockpot of pea soup, along with apple crisp for desert. We talked a bit about possible August Class ideas, and soon Roy's phone went off with a call from past President James, so we all said hello. After lunch, back to carving and as we left, the sprinkles had turned into cold rain for the trip home.
December 2018 CarveIn
In the past, we have had very low attendance at the December Carve-In due to either unexpected snow, deer season and all the other things on our list do before the holiday season. As a result, we have again decided to not schedule a December Carve-In again this year. We'll hope to see you in January 2019 at Burr Morse's CarveIn at The Morse Farm Sugar Works in Montpelier.
January 2019 CarveIn
Our January carve-in will be hosted by Burr Morse at the Morse Farm in Montpelier. With all the poor unpredictable winter weather we have experienced the last few years as well as on our CarveIn date, the Ski Touring Center has been closed, but the Gift Shop will be open. As always, the carve-in begins around 10:00. One topic will be discussing the our August Class and Show, and as always bring a project to work on.
Directions are fairly easy as there are signs along the highway to direct you. Get off the Interstate and go into Montpelier and follow VT Rte 2, turn left on Main Street and after passing State Street go around the "round-a-bout", bear right and go uphill, at the "y" go left. The Morse Farm is about 2.5 miles from downtown Montpelier. Park in the lower lot, and we carve in the large room overlooking the farm fields. If the stairs are not clear, you will have to come in from the gift shop entrance.

---
The Green Mountain Wood Carvers was organized about 60 years ago by Collise Brown from Waterville Vermont to bring together people interested in the art of wood carving. At present, we have about 75 members from Vermont as well as other states across New England.
Members of the club meet the second Saturday of each month for a "Carve-In". The Carve-Ins' are held at members houses and shops across the state, and provide an opportunity for members to gather, work on a projects and share ideas. In addition to our monthly Carve-Ins, each August, the Club plans a week long series of events including a carving class, and our Annual August Show and Sale held in Waterbury Vermont.
You don't need to be an accomplished carver to join the GMWC, our members range from first time carvers to professional carvers. Members work in all aspects of wood carving including relief, chip, caricatures, birds and wild fowl. Are members are always willing to help new carvers get started.
Follow the website links to find information about our various activities, contact information, our membership form and a copy of our newsletter, News & Notes.
Green Mountain Wood Carvers
PO Box 1283
Stowe, Vermont 05672