Green Mountain Woodcarvers Home Page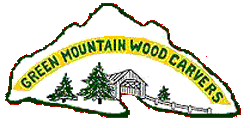 ---
---
In addition to the website and monthly newsletters, you can now find out more about the Club
by logging into Facebook and joining the Green Mountain Woodcarvers group.
July 2017 CarveIn

@ Dennis Wagner's, Rutland, VT

One of our newer members attending several CarveIns, was wondering why we don't have a Carve In closer to his location in Rutland. The result, he volunteered a new location, and our July CarveIn was held in Rutland. The rain held off for most of the day as we stayed dry carving on his side porch. It was nice to have 2 newer carvers from the Rutland area join us. Everyone worked on a variety of projects throughout the morning. For lunch, Dennis provided "sloppy joes" and Roy brought another of his famous "dump cakes". We worked on making final plans for our August Show, and Kaye brought us the new banner for Town she had just finished sewing. Very nice work.
August GMWC Events:

---

1/2 Scale 3 Day Loon Carving Class w/ Larry Bertrand - Morrisville, VT

Our 3 Day Class is filling quickly, you can find more information under the "Classes" tab.

44th Annual Show and Sale - Rusty Parker Park, Waterbury, VT

Saturday, August 19, 2017 - 9:00 a.m. - 3:00 p.m.


After 41 years in Morrisville, the we decided to move our Annual Show to a more central location in Waterbury to help promote Woodcarving, and we are excited to return to Waterbury once again this year. Carvers from around Vermont and New England will be displaying their work, including many from the Central Vermont area. In addition to the displays, demonstrations are planned throughout the day of carving styles and methods, including an opportunity for kids (of all ages) to try their hand at soap carving. Carvers at the Show this year will be having a contest, carving unique letter openers to be handed out as Door Prizes to those attending the Show.
This is a good opportunity to learn how woodcarvers, using simple hand tools transform a block of wood into a piece of art. As always, the Show is free and everyone is encouraged to attend.
---
The Green Mountain Wood Carvers was organized about 50 years ago by Collise Brown from Waterville Vermont to bring together people interested in the art of wood carving. At present, we have about 75 members from Vermont as well as other states across New England.
Members of the club meet the second Saturday of each month for a "Carve-In". The Carve-Ins' are held at members houses and shops across the state, and provide an opportunity for members to gather, work on a projects and share ideas. In addition to our monthly Carve-Ins, each August, the Club plans a week long series of events including a carving class, and our Annual August Show and Sale held in Waterbury Vermont.
You don't need to be an accomplished carver to join the GMWC, our members range from first time carvers to professional carvers. Members work in all aspects of wood carving including relief, chip, caricatures, birds and wild fowl. Are members are always willing to help new carvers get started.
Follow the website links to find information about our various activities, contact information, our membership form and a copy of our newsletter, News & Notes.
Green Mountain Wood Carvers
PO Box 1283
Stowe, Vermont 05672