Green Mountain Woodcarvers Home Page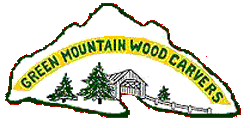 ---
---
In addition to the website and monthly newsletters, you can now find out more about the Club
by logging into Facebook and joining the Green Mountain Woodcarvers group.
44th GMWC Annual Show

Rusty Parker Park, Waterbury, VT

Once again, Mother Nature smiled on our 44th Annual Outdoor Show. During the Class prior to the Show, the weekend forecast was a bit on the damp side, but by saturday as carvers started showing up and setting up displays along the walkway leading to the gazebo in Rusty Parker Park in Waterbury, the rain the night before turned into a nice sunny day. We were planning on about a dozen carvers but due to a few conflicts we ended up with 9 tables set up in the Park. In addition, to those setting up their tables and canopys, it was very good to see a very large turnout of our members also attending and supporting the Show and spending time getting caught up with other members.
Fall 2017 - GMWC Events:

---

Saturday, September 16, 2017 Carve - In

@ Shelburne Farms Harvest Festival

For the past several years we scheduled our Carve-In along with the Shelburne Farms Harvest Festival. Our members have always enjoyed the Festival, so we have scheduled our monthly Carve-In for the 3rd Saturday to occur on the Festival date, so we could attend and demonstrate woodcarving and promote the Club. The Festival has once again offered us a table at the festival. Plan to arrive before the festival opens, and ask where the woodcarvers table is. The Festival opens at 10:00 and runs till 4:00. There is an admission to the Festival and no pets are allowed. Bring a project and your tools, spend the day with other members at the GMWC tables carving, along with the opportunity to see the other excellent exhibits at the Festival.

Saturday, October 14, 2017 - Carve-In and Annual Meeting

Birds of Vermont Museum, Huntington, VT

The Annual Meeting of the Green Mountain Woodcarvers and our October CarveIn will be held on October 14th, 2017 by the Birds of Vermont Museum in Huntington, Vermont. The CarveIn will begin at 10:00 and the Business Meeting will begin at 12:00 to hear the reports of the present Officers, elect Officers for next year and conduct any appropriate business. The Annual Meeting, is not just about electing Officers but, determining the direction of our Club, and what we will be planning for next year.
This will be a very important meeting for as many of our members to attend as possible. We need your participation and ideas to help determine the future direction of our Club. One of the main topics of discussion of our Annual Show and Exhibit and ideas for next year's Class. We hope to see you at the CarveIn and Annual Meeting, it's a great place to spend a nice fall day.


---
The Green Mountain Wood Carvers was organized about 50 years ago by Collise Brown from Waterville Vermont to bring together people interested in the art of wood carving. At present, we have about 75 members from Vermont as well as other states across New England.
Members of the club meet the second Saturday of each month for a "Carve-In". The Carve-Ins' are held at members houses and shops across the state, and provide an opportunity for members to gather, work on a projects and share ideas. In addition to our monthly Carve-Ins, each August, the Club plans a week long series of events including a carving class, and our Annual August Show and Sale held in Waterbury Vermont.
You don't need to be an accomplished carver to join the GMWC, our members range from first time carvers to professional carvers. Members work in all aspects of wood carving including relief, chip, caricatures, birds and wild fowl. Are members are always willing to help new carvers get started.
Follow the website links to find information about our various activities, contact information, our membership form and a copy of our newsletter, News & Notes.
Green Mountain Wood Carvers
PO Box 1283
Stowe, Vermont 05672