Green Mountain Woodcarvers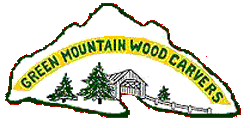 ---
---
In addition to the website and monthly newsletters, you can now find out more about the Club
by logging into Facebook and joining the Green Mountain Woodcarvers group.
---
Its been a very busy time for the Green Mountain Woodcarvers, with our 45th Show and August Class over,
its time for our Autumn 2018 Events
Saturday September 15, 2018 CarveIn

Shelburne Farms Harvest Festival

Shelburne, Vermont


Our September CarveIn was held at the Shelburne Farms Harvest Festival. When we arrived, they had set up a few more tables for us than in the past, but soon members arrived and we had no problems filling all the tables with carvings. Of course one of the "perks" of the Festival is the food available. Matt made sure he headed for the Bakery as soon as he arrived and returned with fresh baked Bread and Shelburne Farms Smoked Cheese for lunch, as did many other Carvers. Throughout the morning the 9 carvers at our table worked on a number of projects, and spent time talking with others about woodcarving. Quite a few picked up information about the Club, and MDI catalogs to help them get started in carving. When not carving, we had a chance to see the other attractions in the Festival. By afternoon, it was getting quite warm for an Autumn day, but the crowds continued off and on throughout the day and kept us busy. The Raptor display right outside our area helped bring people to our table. Once again, a very good Festival, and time to share Woodcarving.
Saturday October 13, 2018 CarveIn and Annual Meeting
Birds of Vermont Museum
Huntington, Vermont
The Annual Meeting of the Green Mountain Woodcarvers and our October CarveIn will be held on October 13th, 2018 hosted by the Birds of Vermont Museum in Huntington, Vermont. The CarveIn will begin at 10:00 and the Business Meeting will begin at 12:00 to hear the reports of the present Officers, elect Officers for next year and conduct any appropriate business. The Annual Meeting, is not just about electing Officers but, determining the direction of our Club, and what we will be planning for next year.
This will be a very important meeting for as many of our members to attend as possible. We need your participation and ideas to help determine the future direction of our Club. One of the main topics of discussion of our Annual Show and Exhibit and ideas for next year's Class. We hope to see you at the CarveIn and Annual Meeting, it's a great place to spend a nice fall day.

---
The Green Mountain Wood Carvers was organized about 55 years ago by Collise Brown from Waterville Vermont to bring together people interested in the art of wood carving. At present, we have about 75 members from Vermont as well as other states across New England.
Members of the club meet the second Saturday of each month for a "Carve-In". The Carve-Ins' are held at members houses and shops across the state, and provide an opportunity for members to gather, work on a projects and share ideas. In addition to our monthly Carve-Ins, each August, the Club plans a week long series of events including a carving class, and our Annual August Show and Sale held in Waterbury Vermont.
You don't need to be an accomplished carver to join the GMWC, our members range from first time carvers to professional carvers. Members work in all aspects of wood carving including relief, chip, caricatures, birds and wild fowl. Are members are always willing to help new carvers get started.
Follow the website links to find information about our various activities, contact information, our membership form and a copy of our newsletter, News & Notes.
Green Mountain Wood Carvers
PO Box 1283
Stowe, Vermont 05672