Green Mountain Woodcarvers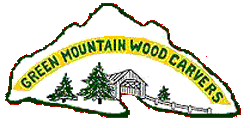 ---
---
In addition to the website and monthly newsletters, you can now find out more about the Club
by logging into Facebook and joining the Green Mountain Woodcarvers group.
May 12, 2018 Carve-In

@ Birds of VT Museum

Once again the weatherman got the forecast wrong, no sprinkles, just a beautiful sunny spring day for our CarveIn at the Birds of Vermont Museum. 12 members (and twice as many donuts) attended. Larry Bertrand brought paint and brushes to demonstrate how to finish painting the Loons from last August's Class. While we painted, others worked on some finish carving on their Loons, and others, worked on some of the small birds we are carving for the museum. We had 11 finished small birds for the museum when we started and a good number in progress by the end of the day. Dave Tabor brought along a Mike Shipley style bear he had started at Bill's, good to see he has a good start on his carving. As we finished several "washes" of paint on the loons and then took them outside to dry, each time the day seemed sunnier and warmer. Throughout the day, visitors to the museum stopped in to see the shop area, and learn about carving from the group. Lunch Desert was quickly turned into an empty pan of Linzertort. We had a short meeting, discussed the August Show and other possible places to hold CarveIns with the History Expo now being History. After the meeting we carved a bit longer and then had to go outside to enjoy the nice spring weather.
---

June 9, 2018 - CarveIn

@ Bob Lindemann's - Moretown, VT

Our June Carve-In will be hosted by Bob Lindemann. Directions: Get off the Interstate at Exit 9 (Middlesex) go to Rte 2 (new traffic light for construction). Turn left onto Rte 2, just past the Middlesex Village Store, turn right onto VT Rte 100B. Go past the Middlesex Dam, and turn left onto TH#66 Turner Rd. (if you get to a horse barn you went to far) At the end of the development follow the driveway uphill to the house. I'll put a sign on Rte 100B at the turn. As always, if the weather is good, we'll carve by the Gazebo and picnic table, or in the garage if it happens to rain. Not sure of the menu quite yet, but you never know what kind of RoadKill might be on the grill or in the Dutch Oven for desert.
---
The Green Mountain Wood Carvers was organized about 55 years ago by Collise Brown from Waterville Vermont to bring together people interested in the art of wood carving. At present, we have about 75 members from Vermont as well as other states across New England.
Members of the club meet the second Saturday of each month for a "Carve-In". The Carve-Ins' are held at members houses and shops across the state, and provide an opportunity for members to gather, work on a projects and share ideas. In addition to our monthly Carve-Ins, each August, the Club plans a week long series of events including a carving class, and our Annual August Show and Sale held in Waterbury Vermont.
You don't need to be an accomplished carver to join the GMWC, our members range from first time carvers to professional carvers. Members work in all aspects of wood carving including relief, chip, caricatures, birds and wild fowl. Are members are always willing to help new carvers get started.
Follow the website links to find information about our various activities, contact information, our membership form and a copy of our newsletter, News & Notes.
Green Mountain Wood Carvers
PO Box 1283
Stowe, Vermont 05672