Green Mountain Woodcarvers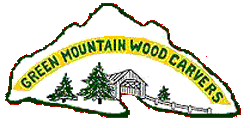 ---
---
In addition to the website and monthly newsletters, you can now find out more about the Club
by logging into Facebook and joining the Green Mountain Woodcarvers group.
March 10, 2018 Carve-In Report

@ Bill Rice's in Randolph Center

Our March CarveIn at Bill Rice's in Randolph Center. Despite good weather, attendance was down a bit to 7 carvers, including a new member Dave Tabor also from Randolph Center. As always, the table was full of snacks and coffee to hold us over till lunchtime. Bill had asked Bob to cut out several Owl Blanks and a along with a bag full of small birds cutouts for the Birds of Vermont Museum, we were set for the day. Lots of good conversations and lots of chips on the floor, and Richard only needed 2 bandages till we took a break around 1:00 for Lunch. Upstairs, was a very good Sausage and vegetable soup, chips, bread, along with brownies and cookies for desert. We had a long discussion at the meeting about how to increase interest in Carving. With the History Expo no longer being held, what other public festivals could we participate in? Bob has been looking into the Ethan Allen Homestead and Maritime Museum, and Barb is checking on other fairs and festivals.
---

April 14, 2018 - CarveIn

@ Dave Tuttle's, Walpole, NH

For our April Carve-In we will once again need to leave Vermont... Dave Tuttle has again invited us to his house across the river in Walpole NH. The directions seem fairly simple, Take exit 5 off I-91, follow the access road to Rte 5. Go south to Rte 123 across the river to NH. Follow Rte 12 north and by a Ballfield is Upper Walpole Rd. (also labeled as 123S) If you get to the Shaw's Store, you missed the turn. Dave's house is on the right about 1 mile after the turn. If you get to a stop sign, turn around, you missed the house. You never know what to expect at our April Carve-In, at times we find ourselves carving outside in the warm sun, while a year later it's still winter and we head indoors to stay warm. If you took the Loon Class, bring along your carving, and we'll Gesso the carving so its ready to paint, by the May CarveIn.
---
The Green Mountain Wood Carvers was organized about 55 years ago by Collise Brown from Waterville Vermont to bring together people interested in the art of wood carving. At present, we have about 75 members from Vermont as well as other states across New England.
Members of the club meet the second Saturday of each month for a "Carve-In". The Carve-Ins' are held at members houses and shops across the state, and provide an opportunity for members to gather, work on a projects and share ideas. In addition to our monthly Carve-Ins, each August, the Club plans a week long series of events including a carving class, and our Annual August Show and Sale held in Waterbury Vermont.
You don't need to be an accomplished carver to join the GMWC, our members range from first time carvers to professional carvers. Members work in all aspects of wood carving including relief, chip, caricatures, birds and wild fowl. Are members are always willing to help new carvers get started.
Follow the website links to find information about our various activities, contact information, our membership form and a copy of our newsletter, News & Notes.
Green Mountain Wood Carvers
PO Box 1283
Stowe, Vermont 05672