Green Mountain Woodcarvers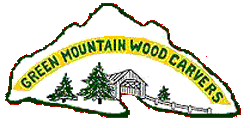 ---
---
In addition to the website and monthly newsletters, you can now find out more about the Club
by logging into Facebook and joining the Green Mountain Woodcarvers group.
---
Saturday January 12th 2019 CarveIn

Morse Farm Sugarworks

Montpelier, Vermont


Our January carve-in was hosted by Burr Morse at the Morse Farm Maple Sugarworks in Montpelier. January weather always seems to be unpredictable, instead of freezing rain like in the past, this year called for temperatures hovering just a bit above zero. You could stay home and feed the woodstove, or head over to Burr's for a day of carving which is exactly what 13 of our members decided to do. Burr had the stove running and the south facing windows with bright sunshine made a very good place to carve. Throughout the morning, more members some which we have not seen for a while arrived to work on projects including Jerry Osterman working on a flat plane hunter and Don Heuerman carving Santa's for next year, as well as our regular Carve In attendees. As the donuts disappeared, and noon arrived, Burr made a large batch of Goulash for lunch and Bob brought along a maple/apple tart for desert. We discussed ideas for the August class a bit, and then back to carving and good conversations continued into the afternoon. Those by the large windows kept commenting on how nice the warm sun felt on a frigid January day. Around 2:00 the group began to head home and get ready for the subzero night ahead.
February 9, 2019 CarveIn
Barb & Wood Taylor's - Putney, Vermont
Our February Carve-in will once again be hosted by Barb and "Wood" Taylor. The shop is usually clean and the wood stove running when we arrive, and in addition to all the donuts and other snacks, Wood or Dave often has a pattern for us to try our knives on. For lunch and our meeting, we move to the house and Barb usually has a nice warm soup to fill us up before the meeting. It's a bit of a drive from the north, but always worth the trip, and a good chance to Carpool if you live "up north", as well as a good location for member's living in southern Vermont.

Directions from the north:
Take I-91 South to the Westminster Exit #5, then Route 5 South to Westminster Center, clock your mileage at this point the shop is about 3 miles on the right. The house has cedar siding and a green metal roof. Watch for the sign on the shop.
Directions from the south:
Take I-91 North to the Putney Exit #4, then Route 5 north (about 6 miles), passing Harlow's Sugar House on the right, just past the Sugar House clock the mileage from the bridge going past I-91, the shop is 2 miles on the left.

---
The Green Mountain Wood Carvers was organized about 60 years ago by Collise Brown from Waterville Vermont to bring together people interested in the art of wood carving. At present, we have about 75 members from Vermont as well as other states across New England.
Members of the club meet the second Saturday of each month for a "Carve-In". The Carve-Ins' are held at members houses and shops across the state, and provide an opportunity for members to gather, work on a projects and share ideas. In addition to our monthly Carve-Ins, each August, the Club plans a week long series of events including a carving class, and our Annual August Show and Sale held in Waterbury Vermont.
You don't need to be an accomplished carver to join the GMWC, our members range from first time carvers to professional carvers. Members work in all aspects of wood carving including relief, chip, caricatures, birds and wild fowl. Are members are always willing to help new carvers get started.
Follow the website links to find information about our various activities, contact information, our membership form and a copy of our newsletter, News & Notes.
Green Mountain Wood Carvers
PO Box 1283
Stowe, Vermont 05672