Green Mountain Woodcarvers Home Page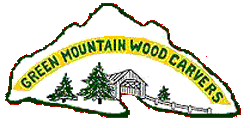 ---
---
In addition to the website and monthly newsletters, you can now find out more about the Club
by logging into Facebook and joining the Green Mountain Woodcarvers group.
April 2017 Carve-In Report

@Dave Tuttle's, Walpole, NH

In April, we once again crossed the Vermont border to Dave's Carve-In. Although it was opening day of trout season, in central Vermont it snowed Friday night, there was black ice on the Interstate, and the temperatures made for much better carving than even thinking about fishing. Despite the cold, Dave had the space heater running in his new garage, there table was full of snacks, and the coffee pot was full. For those not liking to carve faces with eyes, he had blanks cut out for a project where the hat hides the eyes, so the 8 members attending went to work. Several had brought examples or photos of some of their recent projects including Matt's St Patrick's Day version of the Sand Guppy project, and Albert Sanborn had lots of photos of some of his projects to share with the group. Indoors for lunch, we were treated to a very good Corn Chowder, bread and lemon bars and brownies. We discussed the summer class, Barb reported we already have 7 signed up, so the class is almost full. Roy has set up a GMWC Facebook page which members can sign up for. As several of our members are from the Rutland area, we have been looking into a possible location in the Rutland area for one of our monthly CarveIns. Back to carving, we worked into the afternoon before heading home.
May 2017 Carve-In

Saturday, May 13, 2017
@ Birds of Vermont Museum, Huntington, VT
Our May Carve-In will be hosted by the Birds of Vermont Museum in Huntington. Most of our members know the directions, but just in case, take the Richmond exit, go into Richmond, go south and follow the signs to the Museum. As always, we make ourselves available to demonstrate carving to the Museum's visitors through out the day. After an odd winter besides carving, this will be a good opportunity to observe the new arrivals at the museum's feeders. As the Museum also houses our extensive book collection, this is also a good time to check out our library. As we plan for our August Class and Show this is a good time to get the latest updates, and volunteer to help. Our project for the day will be small birds to donate to the Museum, so bring sharp tools.

---
The Green Mountain Wood Carvers was organized about 50 years ago by Collise Brown from Waterville Vermont to bring together people interested in the art of wood carving. At present, we have about 75 members from Vermont as well as other states across New England.
Members of the club meet the second Saturday of each month for a "Carve-In". The Carve-Ins' are held at members houses and shops across the state, and provide an opportunity for members to gather, work on a projects and share ideas. In addition to our monthly Carve-Ins, each August, the Club plans a week long series of events including a carving class, and our Annual August Show and Sale held in Waterbury Vermont.
You don't need to be an accomplished carver to join the GMWC, our members range from first time carvers to professional carvers. Members work in all aspects of wood carving including relief, chip, caricatures, birds and wild fowl. Are members are always willing to help new carvers get started.
Follow the website links to find information about our various activities, contact information, our membership form and a copy of our newsletter, News & Notes.
Green Mountain Wood Carvers
PO Box 1283
Stowe, Vermont 05672