Green Mountain Woodcarvers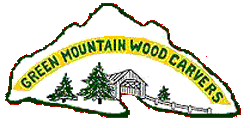 ---
NEW - GMWC Carving Resources Page
---
In addition to the website and monthly newsletters, you can now find out more about the Club
by logging into Facebook and joining the Green Mountain Woodcarvers group.
---
October CarveIn and 2023 Annual Meeting
Saturday October 14, 2023
Host: Birds of Vermont Museum
Our October CarveIn and 2023 Annual Meeting and October Carve-In was held at the Birds of Vermont Museum in Huntington on Saturday, October 14, 2023, with marginal fall foliage and very cool weather outside. Seven members arriver around 10 and spent the morning working on a variety of projects including working on a relief carving a face on a pumpkin as Halloween is just around the corner, and talking with numerous visitors to the Museum, President Matthew Strong called the meeting to order at 12:35.
Bob Lindemann Club Secretary handed out copies of the 2022 Meeting and read thru the highlights of the meeting. The report was accepted. Treasurer Barb Taylor, read the balance of our bank statements, reporting that her computer had "fried" so was not able print out the report, but would send it in as soon as the new computer was set up. While postage costs continue to go up, as many of our members have opted to have the newsletter delivered via Email, we have been able to keep our printing costs low.
The August Eagle Carving class went very well. It was also reported that our 50th Annual Show in Waterbury went very well. What should be the subject for our 2023 August Class? We are again planning an August Class, but need ideas for a subject and who might be the instructor. We have a good group each year attending and are open for ideas. Moving on to Election of Officers, a motion was made to reelect our present slate of Officers.
In addition to the usual snacks, conversations and discussions, if you were unable to attend this year's Annual Meeting, you missed a very rare opportunity, a solar eclipse. On the east coast, we only had a partial, and with the overcast, at time difficult to see, but… During the meeting we kept having breaks of sun, and Matthew concluded the Meeting just about at peak. Dave Tabor brought along special glasses for viewing the eclipse and we headed outside whenever we saw breaks of sun through the trees.
---
November CarveIn
Saturday November 11, 2023
Host: Matthew Strong, Stowe, VT

GMWC President Matthew Strong has volunteered to host our November CarveIn at his Basement Studio in Stowe, on November, the 11th. This is a good time to bring along all the Holiday carvings you are working on, as well as some unfinished projects. We also hope to discuss the possibilities for our August Class, as noted in the Annual Meeting Minutes. As always, we usually begin carving at 10:00, bring a project, lunch and a chair.
Directions:
From Stowe Village, turn onto the Mountain Rd VT Rte 108, Turn right on Weeks Hill Rd about .5 miles from the 100/108 Junction. Go up Weeks Hill Rd about 1.6 miles and stay left past Percy Rd, Matt's house is on the right as you go uphill, by the large wooden "Strong" sign.
---
December 2023 CarveIn:
Once again, with all the things going on with the Holiday season, we will not be scheduling a December CaveIn. A good time to get to work on all your Holiday carving projects
---
The Green Mountain Wood Carvers was organized about 65+ years ago by Collise Brown from Waterville Vermont to bring together people interested in the art of wood carving. At present, we have about 75 members from Vermont as well as other states across New England.
Members of the club meet the second Saturday of each month for a "Carve-In". The Carve-Ins' are held at members houses and shops across the state, and provide an opportunity for members to gather, work on a projects and share ideas. In addition to our monthly Carve-Ins, each August, the Club plans a week long series of events including a carving class, and our Annual August Show and Sale held in Waterbury Vermont.
You don't need to be an accomplished carver to join the GMWC, our members range from first time carvers to professional carvers. Members work in all aspects of wood carving including relief, chip, caricatures, birds and wild fowl. Are members are always willing to help new carvers get started.
Follow the website links to find information about our various activities, contact information, our membership form and a copy of our newsletter, News & Notes.
As of 11/18/20, the GMWC is now recognized as a Non-Profit Organization with tax exempt status of 501(c)3.
Green Mountain Wood Carvers
PO Box 1283
Stowe, Vermont 05672