Green Mountain Woodcarvers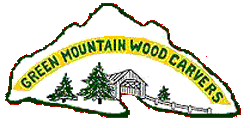 ---
---
In addition to the website and monthly newsletters, you can now find out more about the Club
by logging into Facebook and joining the Green Mountain Woodcarvers group.
February 10, 2018 Carve-In Report

@ Richard & Barb Taylor's

February has traditionally been hosted by Barb & Wood Taylor in Putney, VT. The weather, unlike January cooperated, despite a storm earlier in the week, and some sprinkles in the forecast. Richard had cleaned the shop and the woodstove was going for us. About 12 members attended. Being close to Valentines day, Dave had found a pattern for a "Valentines Cupid's Arrow", as well as bringing cutouts for more small birds for the Birds of VT Museum, so went right to work, and a preview of the various "Blockheads" for the August Class. As always the saw table was covered with all manner of snacks to carry us thru the morning. The conversation varied throughout the morning, and somehow the Donner Party even managed to enter in. At noon we moved to the house, Barb had made 2 kettles of soup as well as bread and brownies. After Matt called to order a brief meeting, we went back to working on carvings, till we headed home around 2:30.
---

March 10, 2018 - CarveIn

@ Bill Rice's

Randolph Center, Vermont

Our March Carve-In will be hosted by Bill Rice in Randolph Center near the VTC Campus. As usual the Carve-In will begin around 10:00, with a break for lunch and then continue into the afternoon. You may wish to bring an extra chair just in case we have a large turnout. We will have a number of our small birds to work on for the Bird's Museum and there may also be some owl blanks. Bill's house is easy to find, after getting off the Randolph Exit, head uphill toward VTC. As you get to the intersection by the college, turn right and shortly take the left turn between the White Church and old Red Schoolhouse. As you are going down a fairly steep hill, the house is on the left. Bill usually has a sign by the side of the road, but the house sneaks up as you go down the hill.
---
The Green Mountain Wood Carvers was organized about 55 years ago by Collise Brown from Waterville Vermont to bring together people interested in the art of wood carving. At present, we have about 75 members from Vermont as well as other states across New England.
Members of the club meet the second Saturday of each month for a "Carve-In". The Carve-Ins' are held at members houses and shops across the state, and provide an opportunity for members to gather, work on a projects and share ideas. In addition to our monthly Carve-Ins, each August, the Club plans a week long series of events including a carving class, and our Annual August Show and Sale held in Waterbury Vermont.
You don't need to be an accomplished carver to join the GMWC, our members range from first time carvers to professional carvers. Members work in all aspects of wood carving including relief, chip, caricatures, birds and wild fowl. Are members are always willing to help new carvers get started.
Follow the website links to find information about our various activities, contact information, our membership form and a copy of our newsletter, News & Notes.
Green Mountain Wood Carvers
PO Box 1283
Stowe, Vermont 05672