Green Mountain Woodcarvers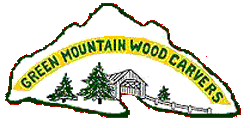 ---
---
In addition to the website and monthly newsletters, you can now find out more about the Club
by logging into Facebook and joining the Green Mountain Woodcarvers group.
June 9, 2018 Carve-In

@ Bob Lindemann's

After a week of very below normal temps and overcast, the long awaited summer arrived just in time for our June CarveIn at Bob Lindemann's. The day began in the mid 40's, but by the time the 12 members attending arrived along with about twice as many donuts, we carved on the front patio to enjoy the sunshine. Oliver brought along his just about all painted loon, and Barb worked on carving hers, and showing us some of the hints she had gotten on carving, burning and painting while in Florida. We had some cutouts for carving frogs to go on the top of a walking stick to work on. Matt worked on some architectural detail carvings he was working on after removing years of paint layers. Dennis brought along some of his recent work, and let us know he was all set for hosting the July CarveIn. By midmorning, some moved to the shade of the crabapple tree. By noon, the grill was lit, and the McKenzie hotdogs were on the grill. In addition to the usual mustard and ketchup, some tried "Rubin dogs", with sauerkraut, swiss cheese and Russian dressing, and other combination including pickled Jalapeno's. Everyone brought something to share including German Potato salad, bean salads, chips, to make for a nice summer picnic lunch. The post lunch conversation continued in the garage to stay in the shade. We ate well, had good conversations and made a good pile of chips.
---

July 14, 2018 - CarveIn

@ Dennis Wagner's - Rutland, VT

Last year, one of our newer members attending several CarveIns, was wondering why we didn's have a Carve In closer to his location in Rutland. The result, he volunteered a new location, and our July CarveIn was held in Rutland. This year, we will return again to his house for our July CarveIn. Bring chairs and a project to work on, hopefully we will be outside. His house is the 3rd house from the corner after Jiffy Lube, across from the Wallgreen's. Look for a 3 story green house, with a porch, his apartment is on the left side. You can pull into the driveway to drop off things and then parking will probably be at the Wallgreens across the street. He plans to have a sign. Lets hope for the same good weather we have had this spring to continue.
---
The Green Mountain Wood Carvers was organized about 55 years ago by Collise Brown from Waterville Vermont to bring together people interested in the art of wood carving. At present, we have about 75 members from Vermont as well as other states across New England.
Members of the club meet the second Saturday of each month for a "Carve-In". The Carve-Ins' are held at members houses and shops across the state, and provide an opportunity for members to gather, work on a projects and share ideas. In addition to our monthly Carve-Ins, each August, the Club plans a week long series of events including a carving class, and our Annual August Show and Sale held in Waterbury Vermont.
You don't need to be an accomplished carver to join the GMWC, our members range from first time carvers to professional carvers. Members work in all aspects of wood carving including relief, chip, caricatures, birds and wild fowl. Are members are always willing to help new carvers get started.
Follow the website links to find information about our various activities, contact information, our membership form and a copy of our newsletter, News & Notes.
Green Mountain Wood Carvers
PO Box 1283
Stowe, Vermont 05672