/
GMWC Members Showcase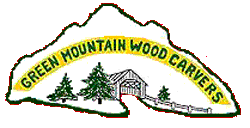 ---
The Green Mountain Woodcarvers have members from not only from Vermont, but also many States in New England, and some call Florida home in the Winter months.
Here is a quick introduction to some of our more active members you will meet at our monthly CarveIns. One advantage of GMWC membership is all the experience, help,
advice and ideas our members share with each other at our monthly meetings.
Matthew H. Strong

GMWC President Matthew H. Strong specializes in Architectural detail carvings. Works by commission doing custom carvings for homes, churches and businesses. You can learn more about Matthew at his facebook page.

Bob Lindemann

Bob's interest in woodcarving began in 1975 after inheriting his grandfathers woodcarving tools, and then began learning how to carve. He serves as Secretary, Newsletter and Website Editor for the Green Mountain Woodcarvers. He retired recently after 40 years teaching Industrial Arts and Design & Technology at Lamoille Union Middle and High School. He enjoys doing carvings in all styles from Wildfowl to chainsaw carvings. An item of interest is that he has never sold any of his carvings, preferring to give them away as gifts to family and friends. This past fall, while demonstrating at the Shelburne Harvest Festival, he was asked to sell one of his small bear cub carvings and instead invited the person to sign up for an Access Carving Class at CVU he was teaching where they would learn how to create the piece for themselves, and get much more personal satisfaction each time they look at the carving.

Dave Tuttle

Dave began carving neckerchief slides as a member of the Boy Scouts. Each month when a new pattern was published in Boys Life, Dave took out his Boy Scout knife and went to work. Duck hunting brought decoys and shore birds under Dave's knives.
Largely self taught in the early days, he fine tuned his skills studying with the masters from the Ozarks to the Adirondaks. When the shelves began spilling over at home, he began gifting his carvings to family and friends and peddling his wares at craft and woodcarving shows up and down the east coast. Craft shows lead to requests for demonstrations and teaching. Dave was honored to demonstrate woodcarving in the New Hampshire building at the Big E and to teach carving lessons locally and at the Birds of Vermont.


Bill Rice

Dale Ferland - aka "The Carvin' Barber"

Tom Jagel

Richard "Wood" Taylor

Oliver Peck

Dennis Wagner

Roy Gilbert

Erin Talmage